Lesley Gore, 1946-2015
On the surface, '60s pop princess Lesley Gore, who died February 16, 2015, might have seemed to have little in common with Bruce Springsteen. Nevertheless, there were some notable connections between these two longtime New Jersey residents. For one, Joan Jett can thank each of them for providing great cover material on two of her best singles: "You Don't Own Me" (Jett's debut single) and "Light of Day." E Street Horns member Eddie Manion also worked with Lesley Gore, as Kingfish himself noted on Facebook shortly after her passing.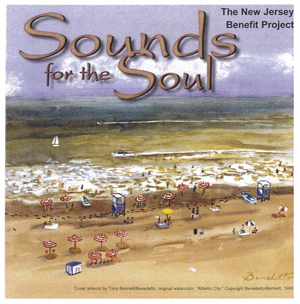 In 1999, both Gore and Springsteen donated their music to Sounds for the Soul: The New Jersey Benefit Project, a unique compilation CD of Jersey-connected artists performing songs related to the Garden State and/or social concerns. (The album cover, pictured here, featured Tony Bennett's original watercolor painting entitled "Atlantic City.") Bruce contributed his official studio version of "My Hometown," while Lesley Gore closed the album with "All One Family," co-written by Gore and recorded specifically for the project. Gore sang the song with Broadway's Michael Demby-Cain and young students from North Jersey's John Harms Center, now known as the Bergen Performing Arts Center. The limited-run CD was sold online and at various New Jersey stores, with all proceeds benefiting five local organizations: the Center for Food Action, the Center for Help, Edgewater Good Neighbor Fund, Friends for Life, and Shelter Our Sisters. Jane Roberti, the album's executive producer, has just agreed to donate one of her few remaining copies of this now-rare CD to The Bruce Springsteen Special Collection in light of Lesley Gore's passing.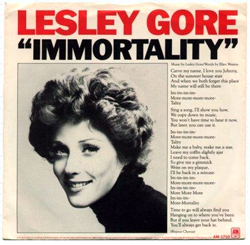 Like Bruce, Lesley Gore was an artist who didn't shy away from taking a stand when she felt the need to do so. In 2005, she opened up publicly about her sexuality and served as one of the hosts for PBS' groundbreaking LGBT newsmagazine In The Life. During the 2012 presidential campaign, Gore presided over the conversion of her classic hit "You Don't Own Me" into a clever pro-choice PSA. Such actions on Gore's part reveal that on a deeper, more important level, there's really not much distance at all between "to live my life the way I want" and "Honey, I want the heart, I want the soul, I want control right now."
This article courtesy of our friends at Backstreets.com and written by Backstreets Contributor and Board Member Shawn Poole.